The Original Key Dates Set Out In The Accord

6/25/98 Election in Northern Ireland for the 108 member legislative assembly. The pro-agreement Ulster Unionists led the polling with 28 seats. The moderate republican SDLP gained 24 seats while Sinn Fein tallied 18 seats. Anti-agreement unionist parties garnered a total of 28 seats The Assembly met 7/1/98 to elect First Minister David Trimble, and Deputy Minister Seamus Mallon of the SDLP. The Assembly will gradually take over power from Britain's Northern Ireland Ministry.
North - South Ministerial Council including First and Deputy Minister from Northern Ireland, and the Irish Prime Minister, are to begin meeting as soon as possible after the Assembly election. The council will meet at least twice a year on the highest level.
An Irish - British council including government representatives from both Dublin and London is also to begin meetings.
June 1998 Dublin and London has enacted legislation to allow early release for prisoners. There has been calls to halt prisoner releases due to the deadlock over the decommissioning issue.
Summer 1999 Deadline for an independent commission to report policing arrangements for Northern Ireland. Former Conservative Northern Ireland Minister, and Governor of Hong Kong Chris Patten is Chairing the Commission. The Commision is currentky investigating alleged Royal Ulster Constabulary (RUC) involvement in sectarian murders, and alleged 'shoot to kill' orders.
Autumn 1999 Deadline for review of Ulster criminal justice system to be carried out by the British government in consultation with the political parties to the accord, as well as non-governmental organizations.
May 2000 Deadline for disarmament of all paramilitary groups.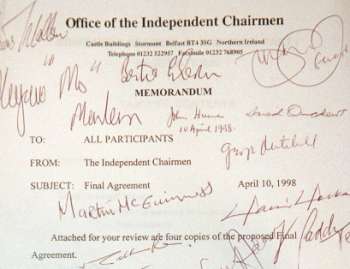 Click on image to get larger version


"People live together in the same house all their lives, and at the end they are as far apart as ever." James Joyce

Page Last Updated January 22, 2017