Preserving the History of Donegal

Many Irish in Carbon County and the Coal Region trace their family roots to Donegal. Our Division member Ronald L. McGinley is actively involved in preserving the history of the Diocese of Raphoe and of old Donegal.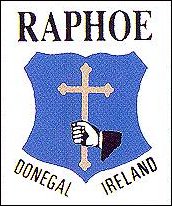 If you are Irish and have Donegal roots, you may know that many of our medieval archives fell victim to the destruction of the 17th Century. After years of planning,
work is in the process of converting the Bishop's Coach House into a New Archive and Library for the Diocese of Raphoe. The archive and library is named Plaza O'Donnell. The new library sheds light on parish life within the Diocese, The Land War, Father McFadden's Papers, The War of Independence, the Donegal Diaspora in America, and many other areas of Irish and American interest.


Please support this worthy cause by making a Tax Deductible contribution to the New Library and Archive Fund. Please make your check payable to Plaza O'Donnell (CA Non-Profit Corp.):



Plaza O'Donnell
PO Box 476
Sierra Madre, CA 91024-0476 E-mail: macfhion@gte.net