NORTHERN IRELAND STUDENT VISITS CARBON VO-TECH
By JAMES M. CURRY of the Times News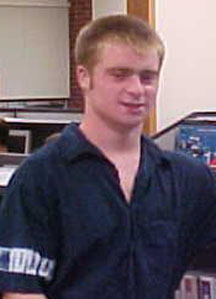 Chris Hamilton, a masonry student in Northern Ireland, says the school day back home ends at
4 p.m.
Chris Hamilton, age 18 from Northern Ireland, recently paid a visit to the Carbon County Area Vocational-Technical School. Chris first came to the United States for six weeks in the summer of 2001, as part of the Children Friendship Program for Northern Ireland (CFPNI).
CFPNI is a peace and friendship building program that fosters understanding and promotes interaction between the Catholic and Protestant teenagers of Northern Ireland, their families and friends. A teen from each of the factional communities in Northern Ireland stays with a volunteer host family in the United States and gets the opportunity to partake in everyday American life.
Hamilton returned to the U.S. recently to attend a wedding of a member of his host family. During his stay, he toured the Carbon County Vo-tech with career counselor Robert Lee, participated in many classroom discussions and saw what a typical school day is like in America.
As a vocational trade student in Ireland, Hamilton studies masonry. He says that American schools differ in the amount of years a student spends in school and how short the school day is.
"In Ireland the school day ends at 4 P.M.," he says.
While in America, Hamilton was invited to the White House and visited New York City. He did not have the opportunity to meet President Bush but says, given the chance, "I'd shake his hand."
Hamilton says he loves the United States and would like to come back to live some day, possibly in a small town such as Jim Thorpe. When asked what he likes best about America, Hamilton replied: "nachos and cheese."